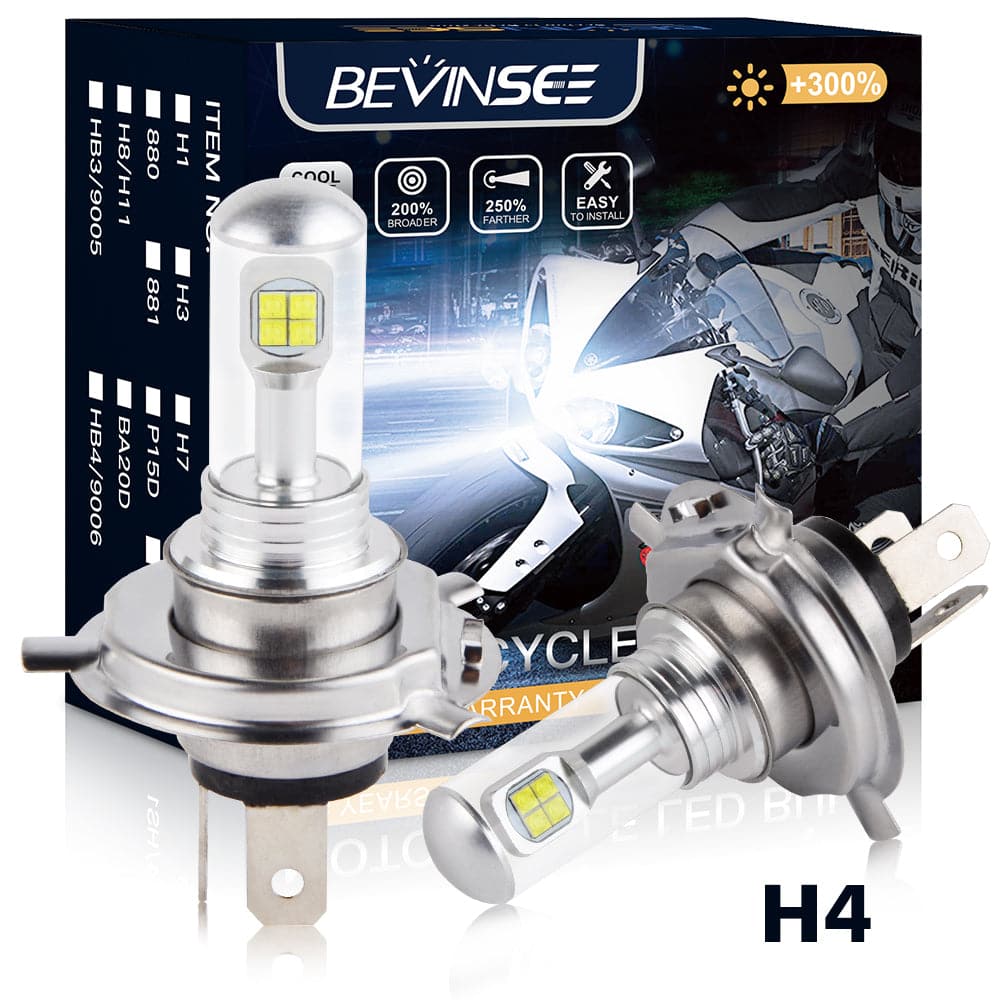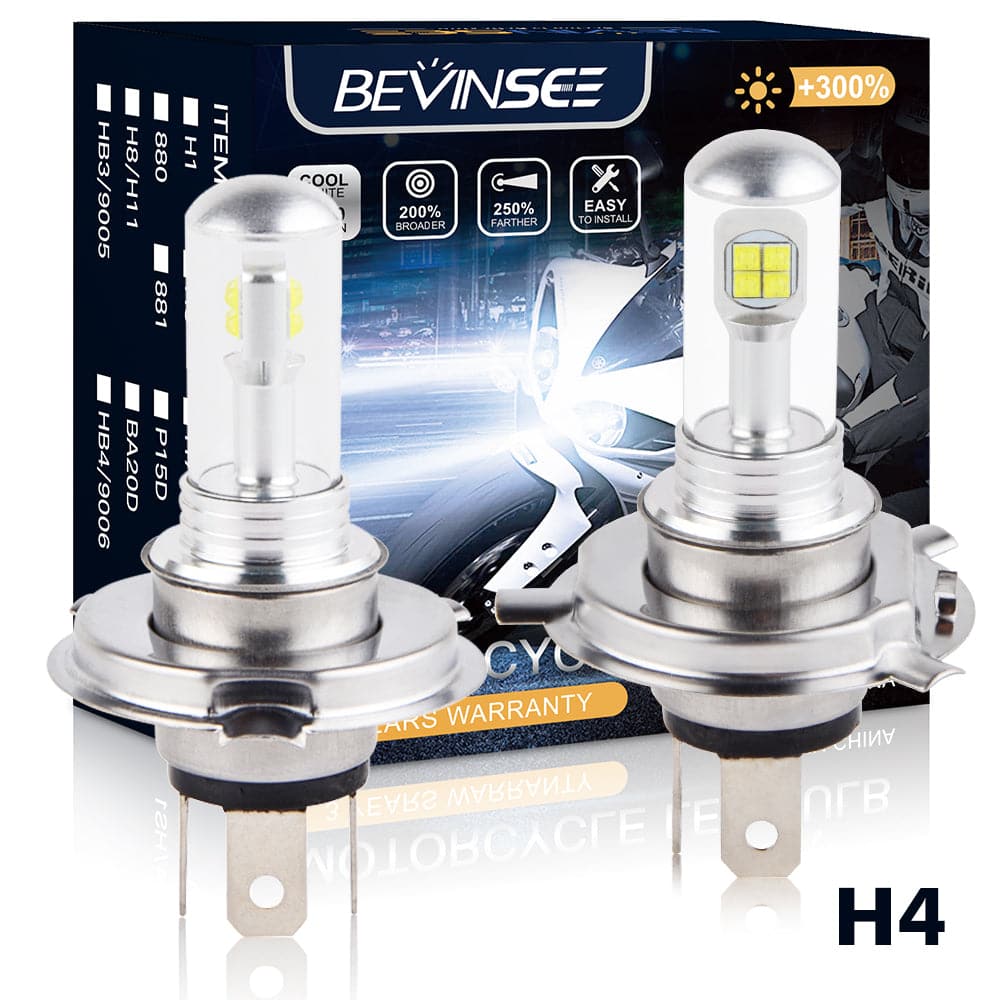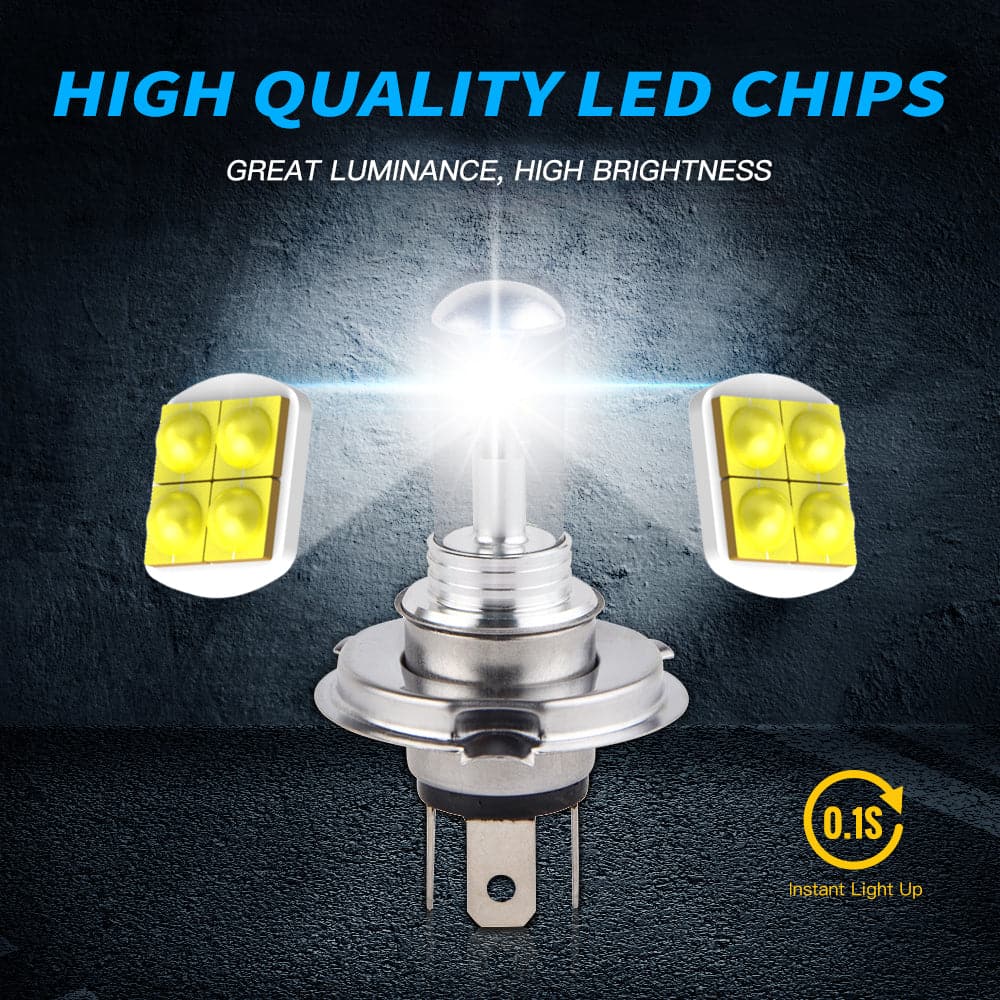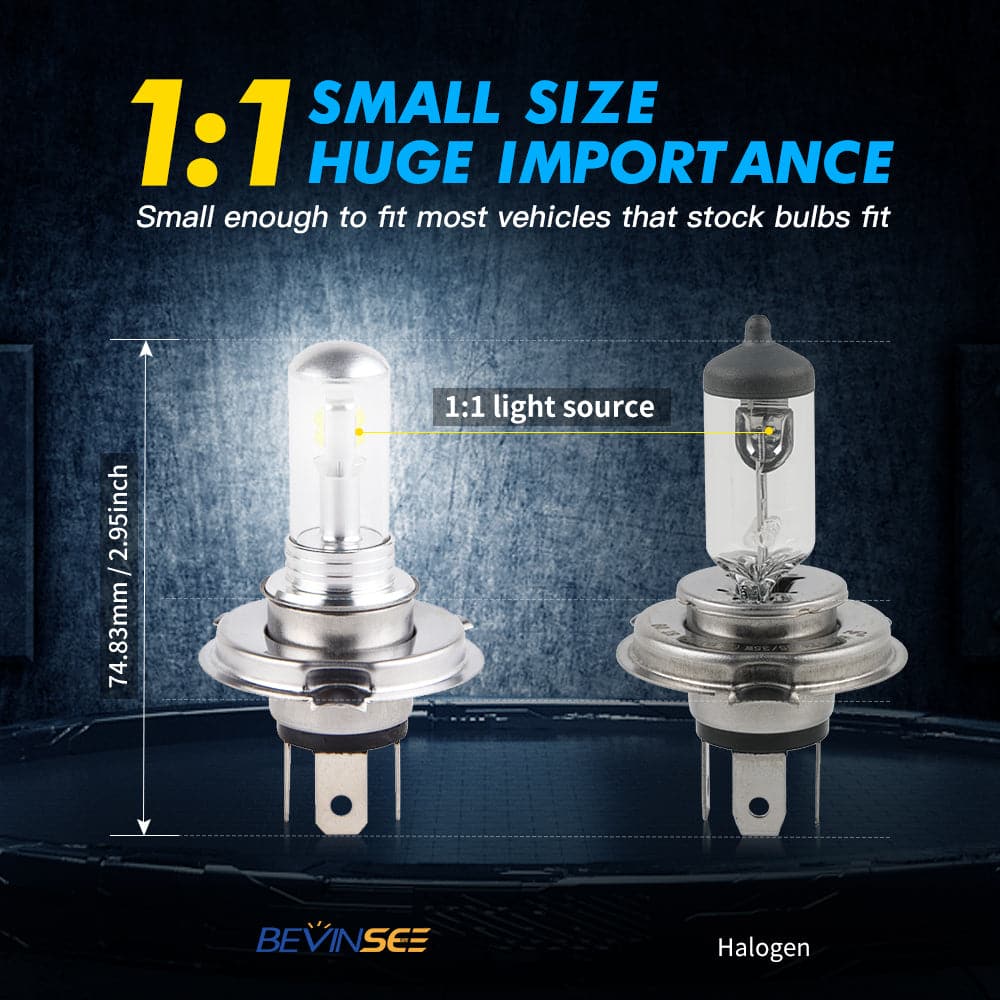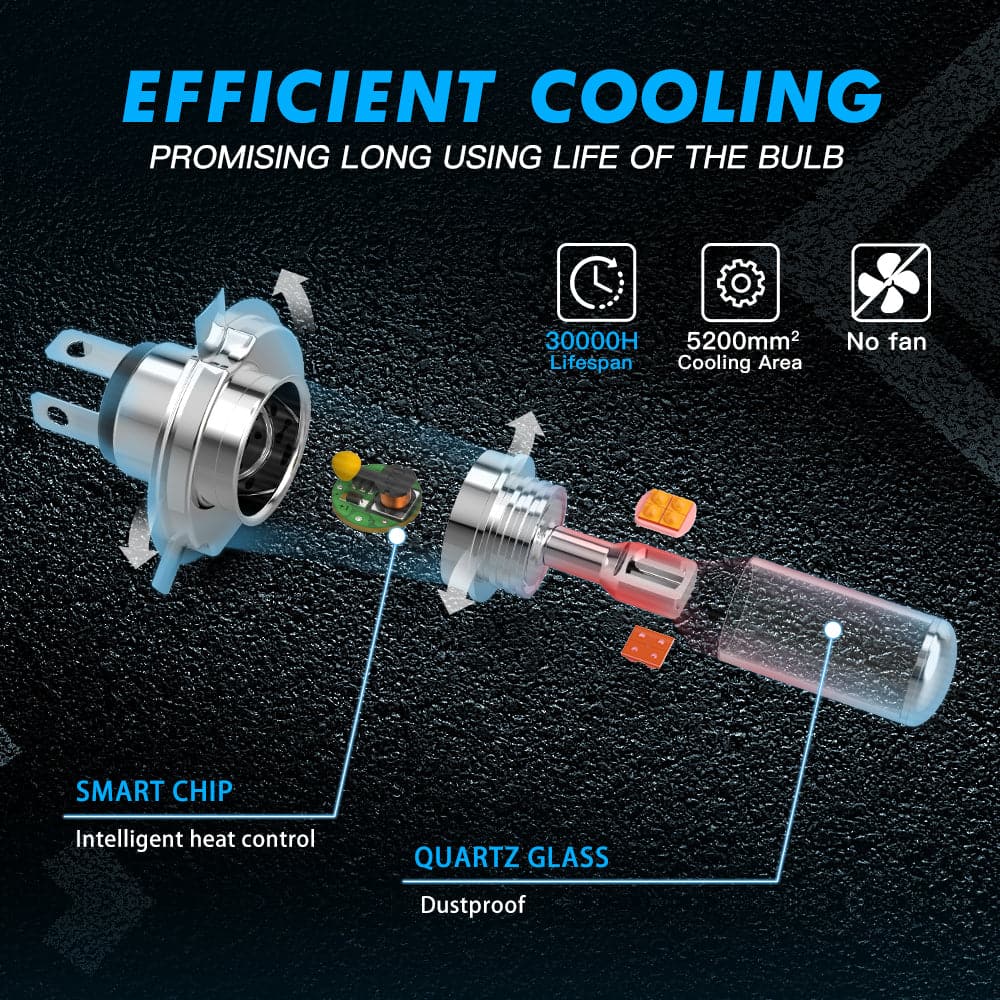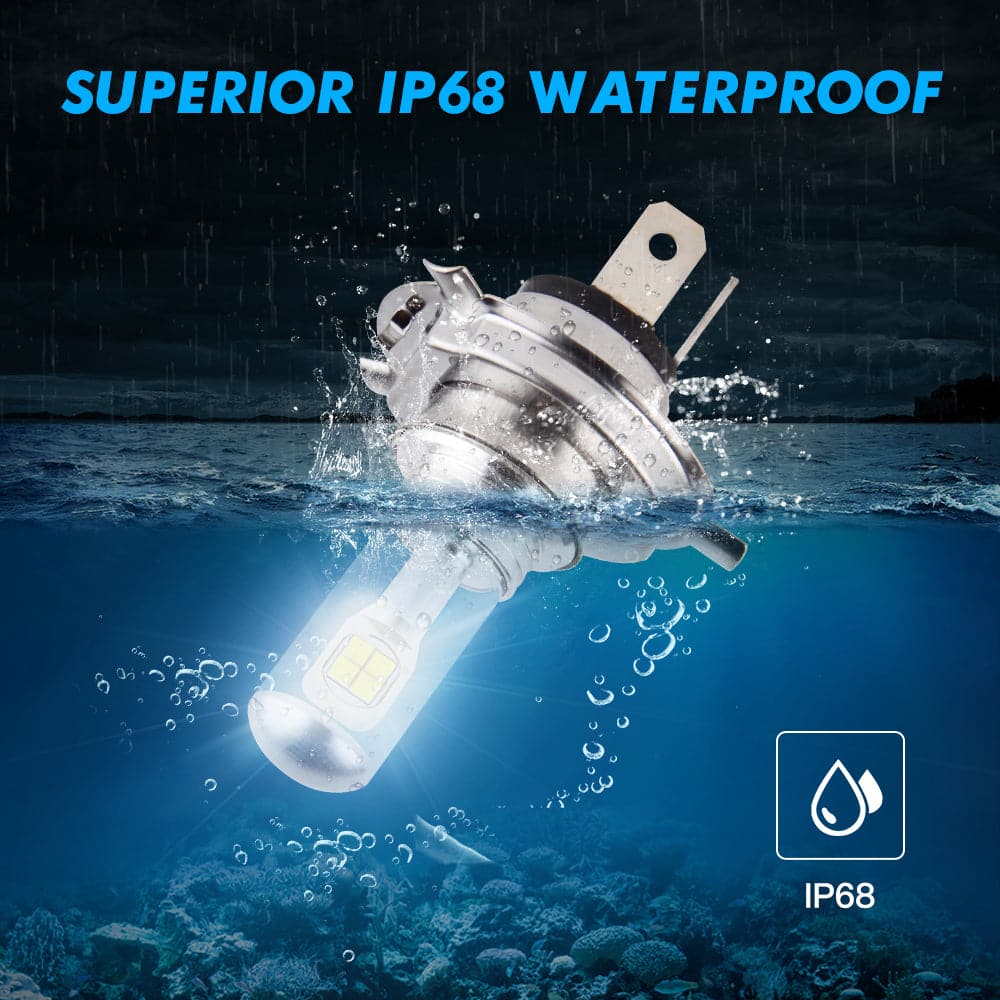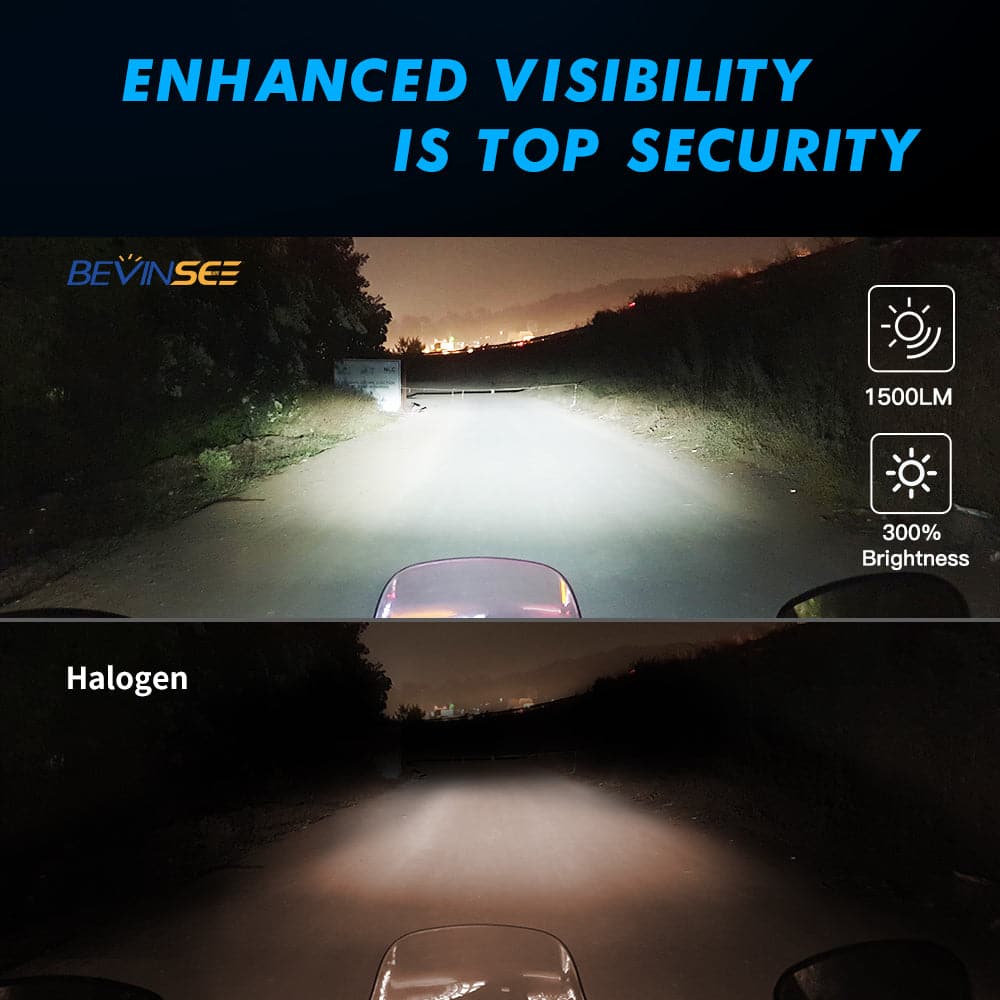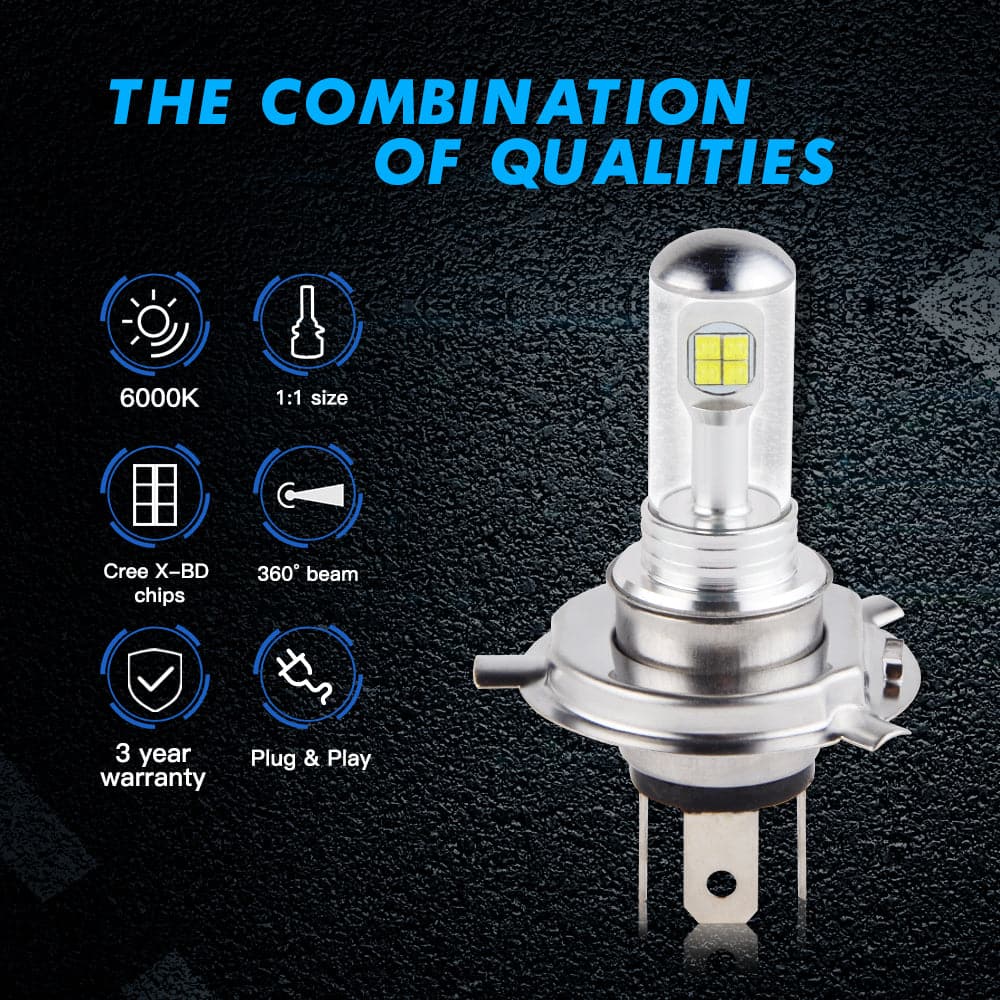 Bevinsee H4 9003 HB2 LED Motorcycle Headlight Bulbs 6000K White 2pcs
This product is vehicle specific.
Select a vehicle to ensure fitment.
WILL NOT FIT
Change Vehicle
Specification:
Type: H4/9003/HB2/HS1 LED Headlight Bulbs
Lumens: 1500LM/Kit, 750LM/Bulb
Color Temperature: 6500K
Operation Wattage: 80W/Pair;40W/Each Bulb
Working Voltage: DC 9-36V (Fit:12-24V Vehicles)
LED Chips: 8PCS LED Chips/Each Bulb
Sealed Housing: Dustproof and Waterproof
Waterproof Rating: IP67
Features:

Exclusive glass technology engineered around the XBD LED Chips to provide more uniform and concentrated lighting
Cold-pressed aluminum bulb body,Intelligent temperature control
0.1S Instant Start Up
Power By Advanced Bright LED Circuitry
2 Side LED Offering 360° Light Beam
The LED Headlight is 40% Brighter,Broader than Original Halogen
Package Include:
2x H4 Headlight LED Bulbs
Fitment:
Universal Fit Headlight With H4/9003/HB2/HS1 Type Socket

Attention:Please Confirm your Light Plug type before buying, this plug type of lamp may be suitable for your car's hight beam/low beam/ fog lights,more details,please check the fitment chart.
Note: This Lamp is Single Beam,There is only one beam in the High and low switch.
Install Caution:
1. As a safety precaution, make sure that the car has had time to cool down properly before starting the installation process.
2. Put the vehicle into park or make sure it is securely in gear.
3. Make sure to have the ignition turned off and the keys removed.
4. Be careful to avoid burns, especially when turning on or off the vehicles lighting.
5. Be careful to avoid crushing or cutting the bulbs. Also make sure to not touch the bulbs with your fingers, as this will cause blotting.
6. Fully examine the connection of the contact points, ports and the wires as faulty connections can cause lighting problems.
7. Make certain that the end of the bulb does not come in contact with the interior light shield of the Headlight when adjusting the bulb.
8.After installation, dust prevention measures must be done, LED lamp life depends on the cooling performance is good or bad. The lamp heat mainly active cooling (fan-cooling based, supplemented by the whole aviation aluminum heat dispassion ) as the main cooling method, the life of the fan in lamp bulb directly affects the life of LED lights.
9.This model don't come with CANBUS Error Free function, Please contact us if you need CANBUS model.
Great product
They were easy to install and give my older bike an updated look. Great fitment with intense output! It gives a great amount of light. Got a second one for my new bike and am very happy with all.