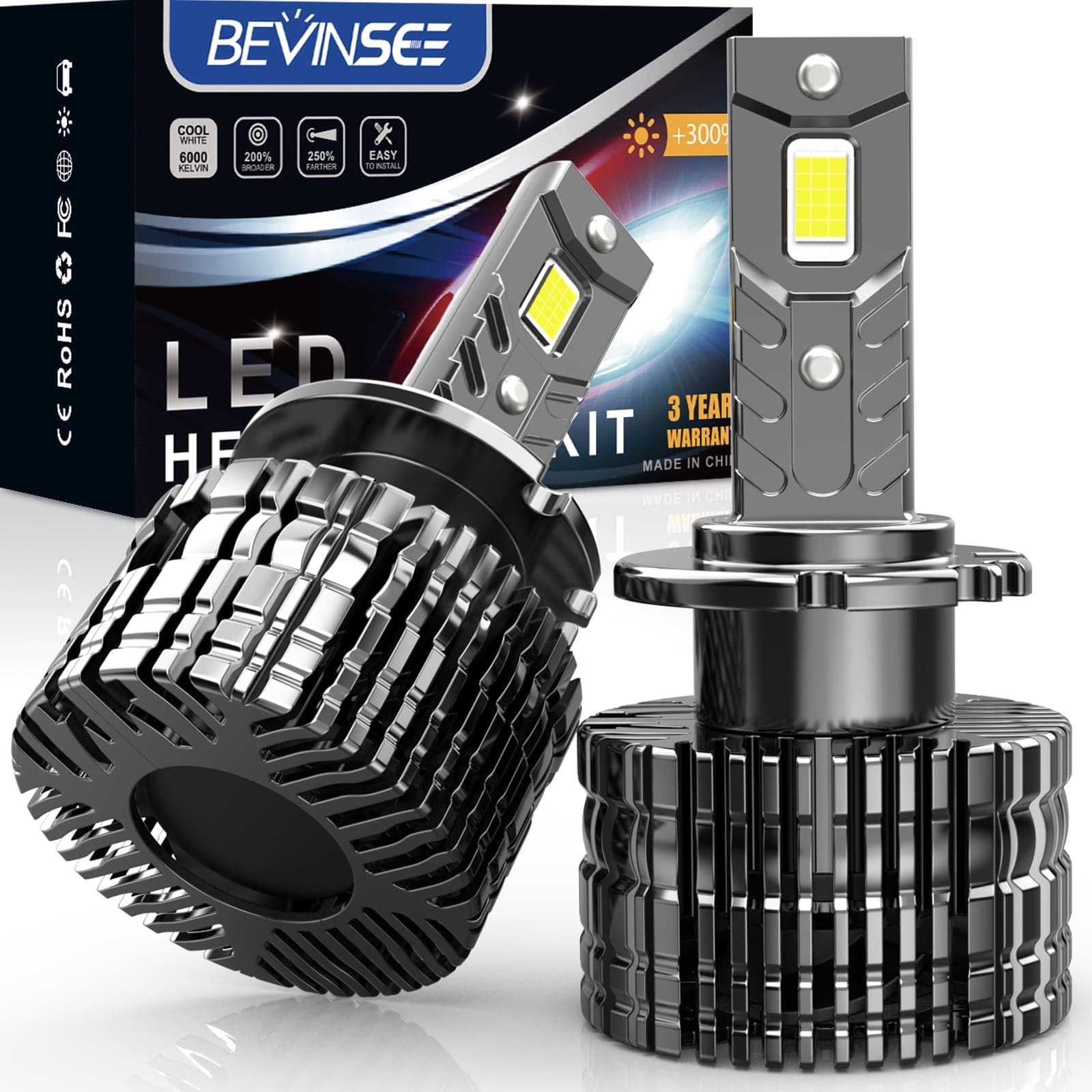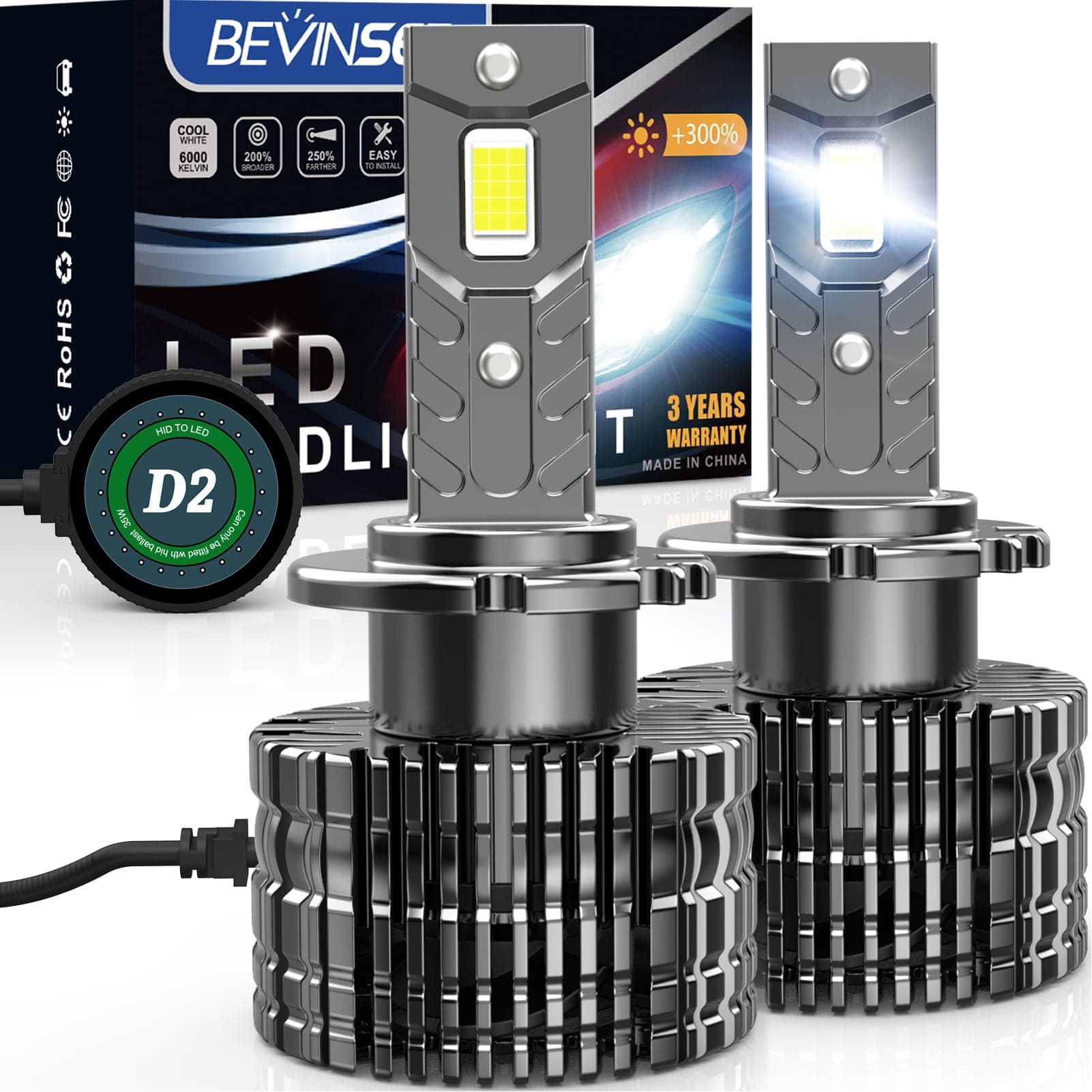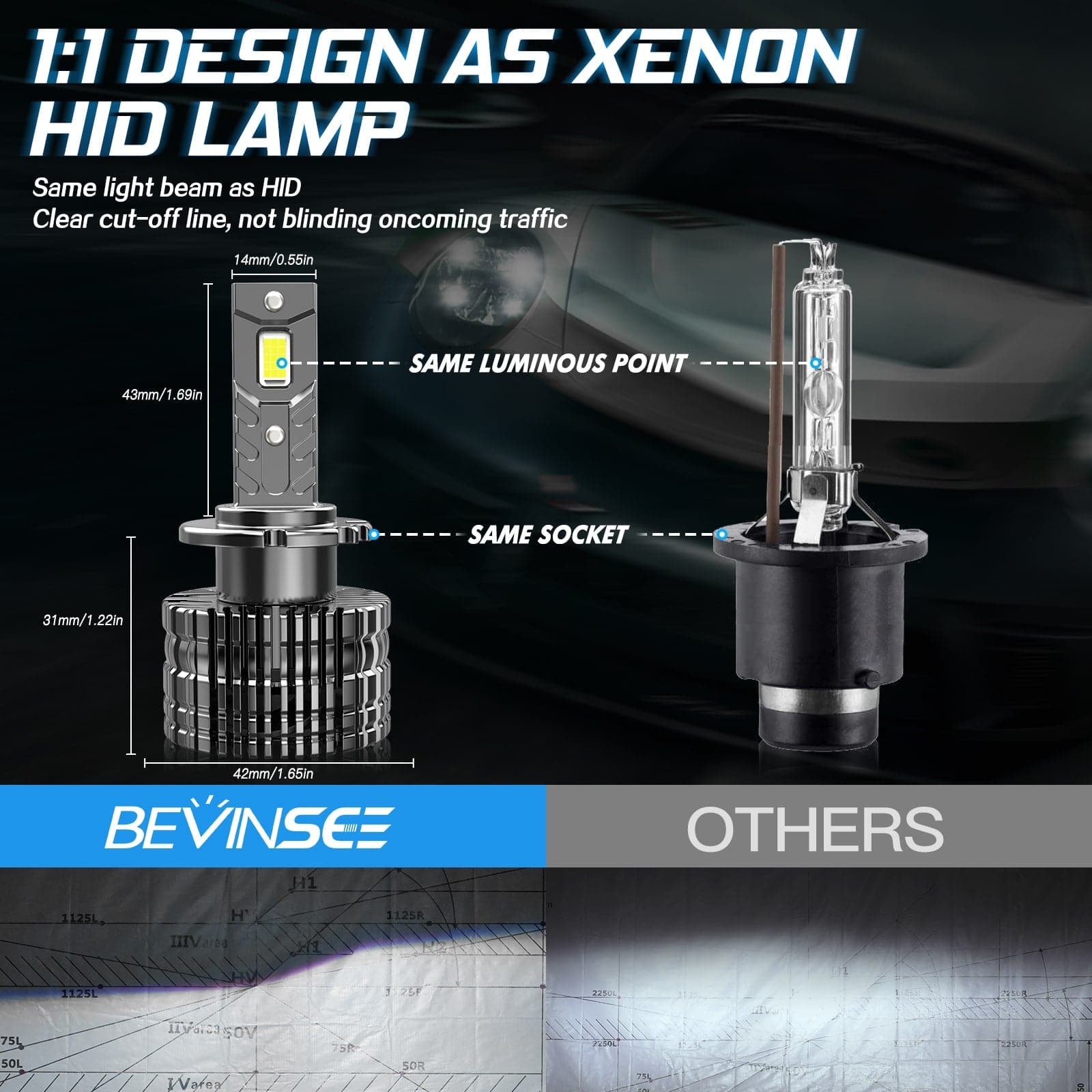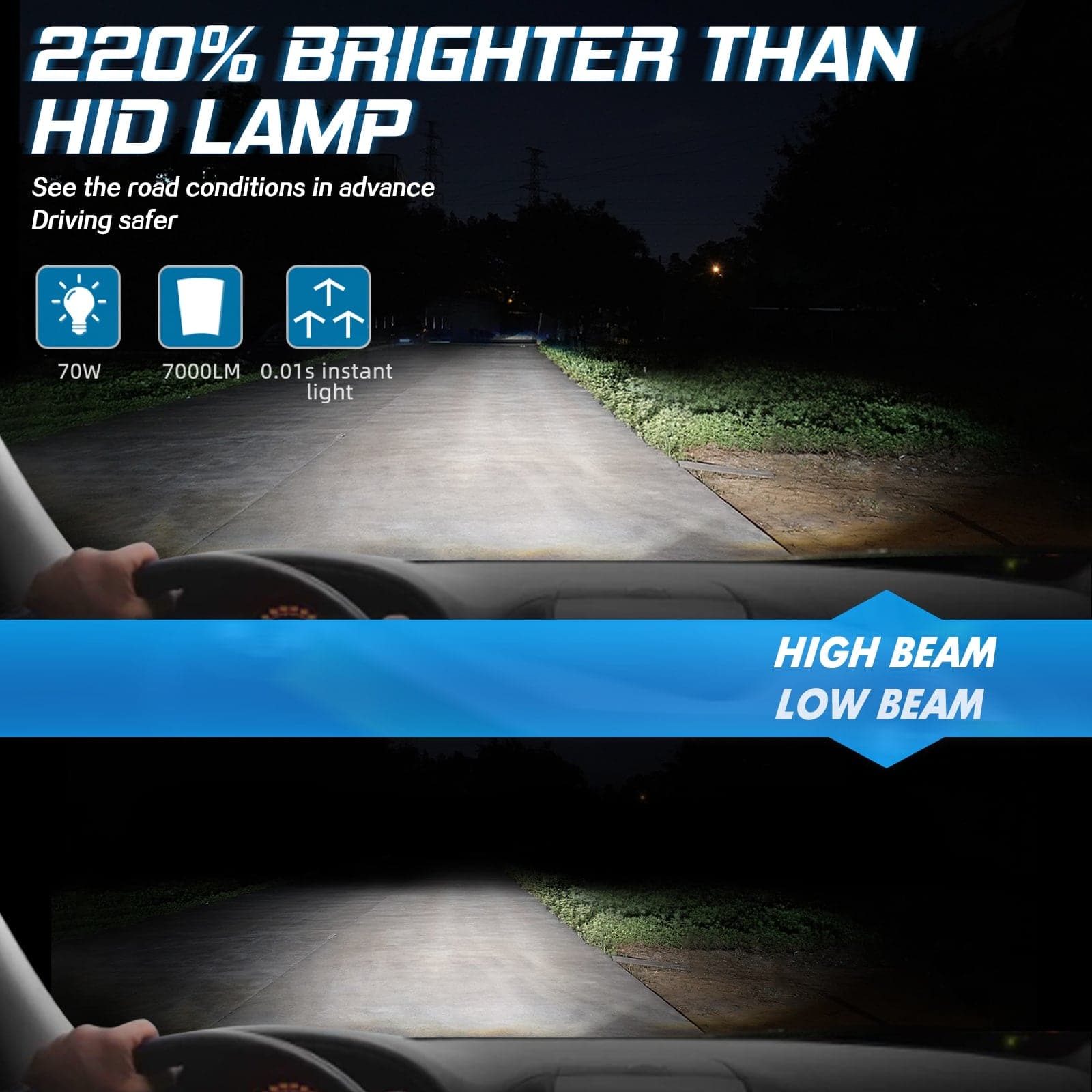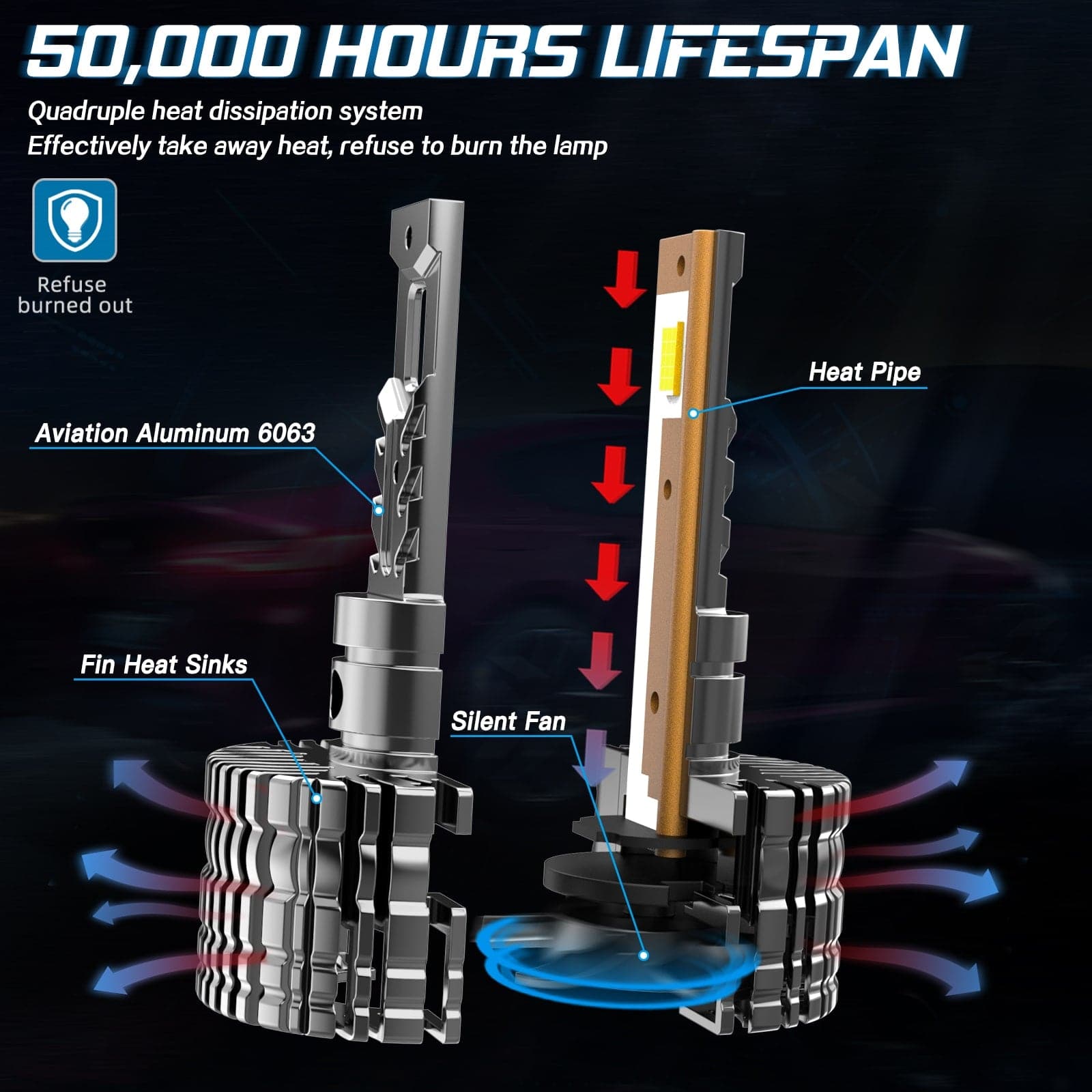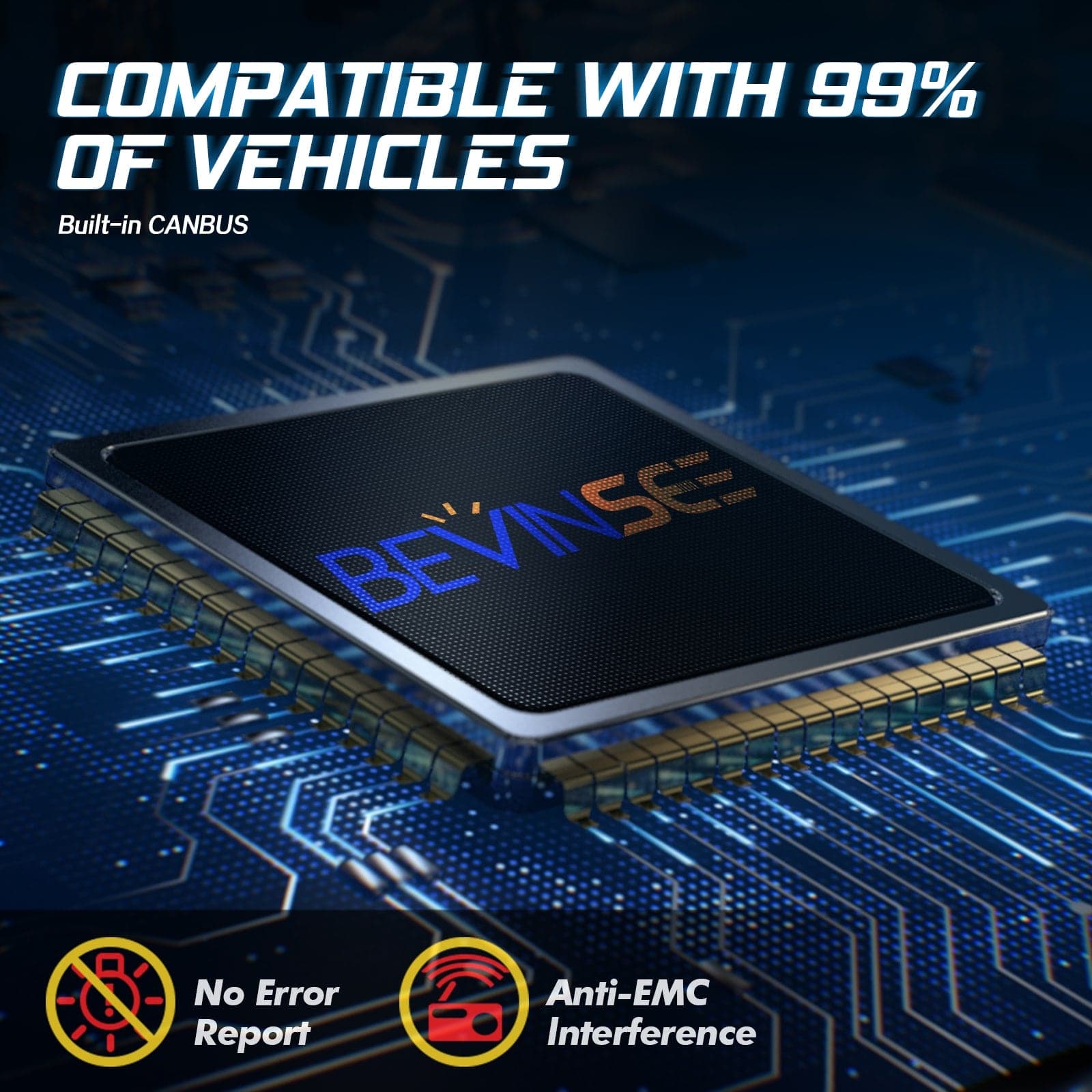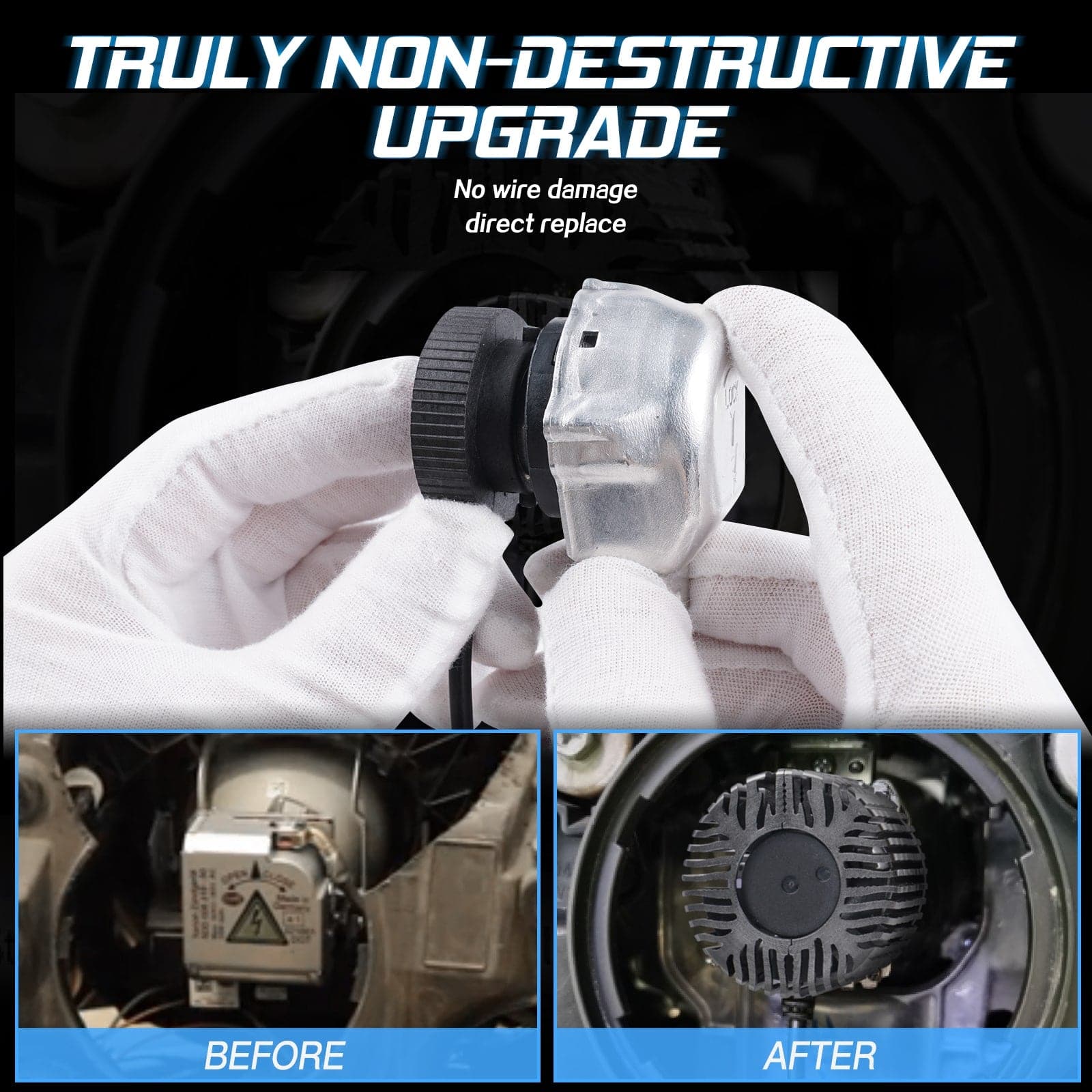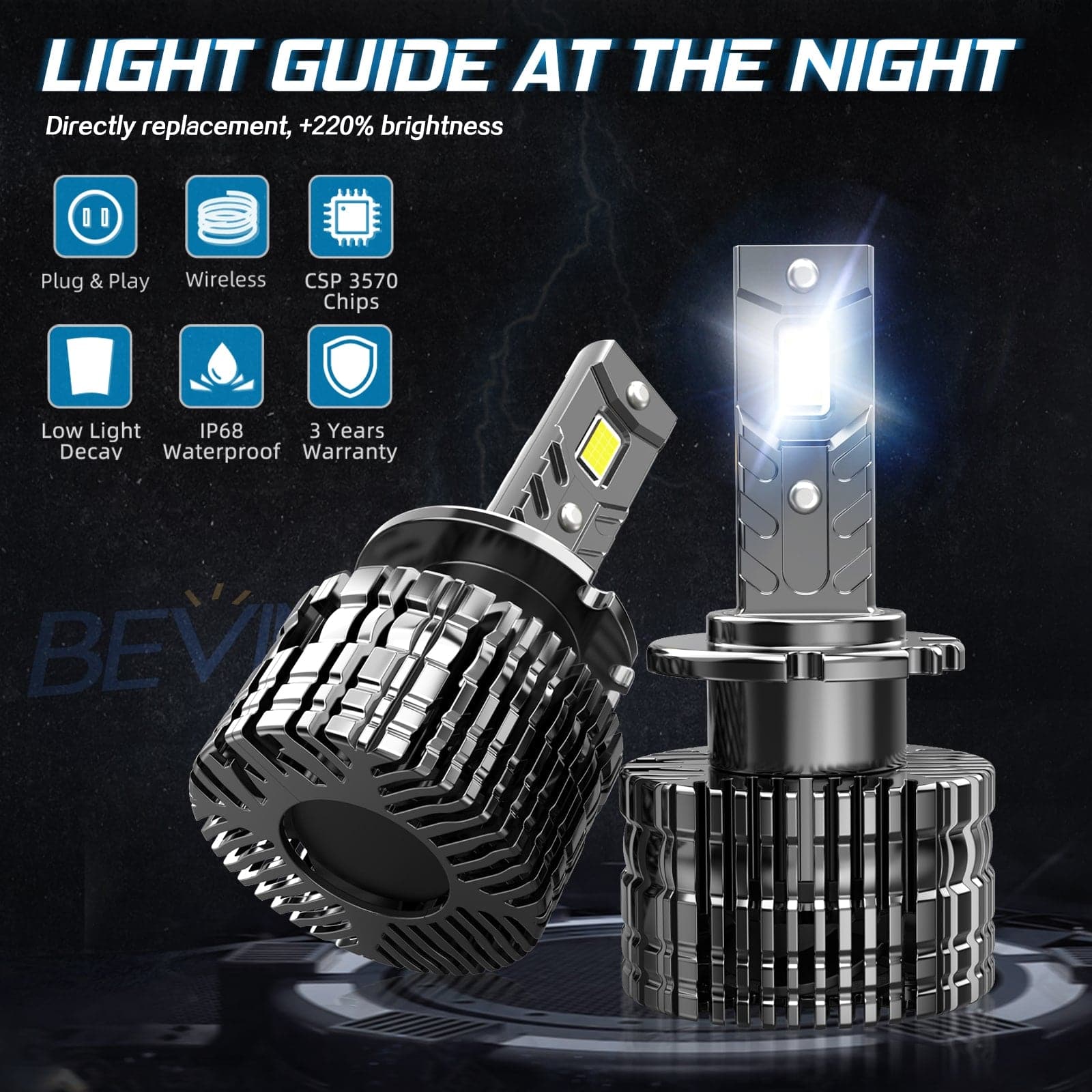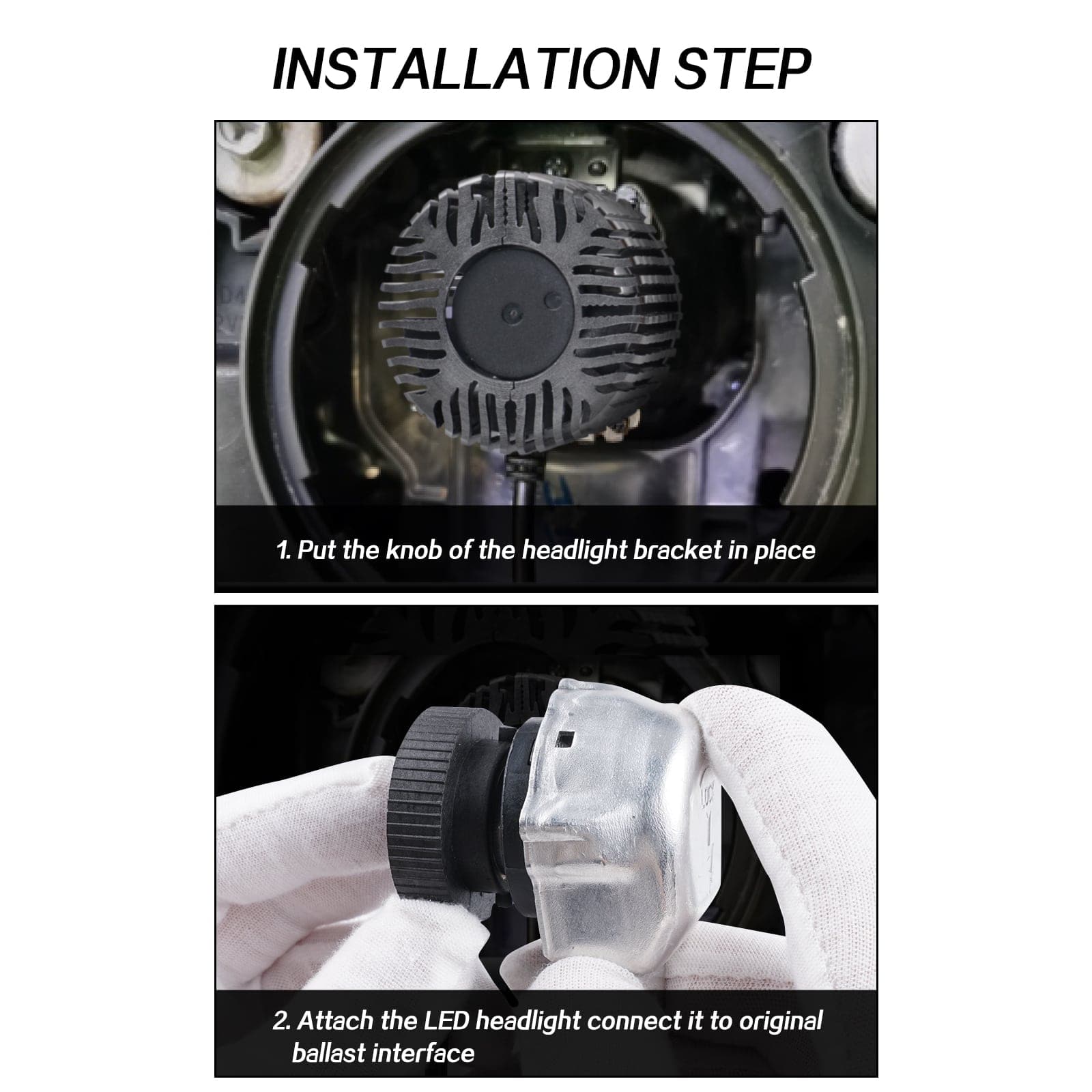 Bevinsee D2S/D2R LED Headlight Bulbs 7000LM/pair 6000K For Hid Xenon
This product is vehicle specific.
Select a vehicle to ensure fitment.
WILL NOT FIT
Change Vehicle
Features:

220% BRIGHTER: Bevinsee D2S LED headlight adopts 3570 LED beads, 6000K white light, 220% brighter than HID Xenon lamp, up to 7000lm/pair. Because of the low light decay rate of led bulbs, you can use for a long time, will not change the color temperature.
1:1 DESIGN: Bevinsee D2S LED headlight and HID lamp has the same luminous point and the same standard beam, the low beam cut-off line is clear, the high beam light distribution is more uniform, the irradiation distance is farther and wider, no black spot, no dark area, not dazzling.
INSTANT LIGHTING: Without preheating time, 0.01s instant lighting, so that you can see the road conditions in advance, improve your reaction time, driving safer.
50000 HOURS LIFE: D2S LED headlights up to 50000hours lifetime, 10 times that of HID. Bevinsee adopts heat sinks, heat pipes and silent fan cooling system to effectively reduce the heat of the headlamp, protect the lamp shell, prevent aging and yellowing, and ensure that the led bulb can be used.
DIRECT REPLACEMENT: Truly achieve non-destructive upgrade, does not need to make any changes to the line, does not damage the original car AFS and auxiliary function, 99% decoding. Bevinsee D2S D2R LED headlight bulb is a good choice replacement for xenon HID lamps.
Specifications:

Brand: Bevinsee
Voltage: 9-16V
Lumen: 7000LM/pair
Temperature: 6000K white
Power: 35W/bulb, 70W/pair
Material: Aviation aluminum 6063
Waterproof level: IP68
Lifespan: >50000hrs
Warranty: 3 years
Type: D2S D2R LED headlight bulb, Xenon HID replacement lamp

Package:
1 pair D2S/D2R LED headlight bulbs

Note:
1. This product is only suitable for upgrading the original car with HID Xenon lamp function, not suitable for a halogen lamp model upgrade
2. Currently available models are: D2S/D2R
3. Please make sure the HID ballast of the original car can work properly

Disclaimer: 
Bevinsee parts are not sponsored or endorsed by, or affiliated with the brands its parts fit, including Porsche, Subaru, Jaguar, BMW, Isuzu, Chrysler, Dodge, Jeep, Buick, Cadillac, Chevrolet, GMC, Volvo, Land Rover, Oldsmobile, Pontiac, Ford, Lincoln, Mercury, Acura, KIA, Nissan, Infiniti, International Harvester, Mitsubishi, Audi, Lexus, Toyota, Mazda, Volkswagen, Suzuki, Saab, Honda, Alfa Romeo, Saleen, Mercedes-Benz, Nash, Hummer, Freightliner, Datsun, Saturn, Turner, Geo, Lada, Fiat, Daihatsu, Opel, Vauxhall, Sabra, Tesla, Ram, Rover, Skoda, Healey, Mini, Smart, Scion, Renault, Seat, Peugeot, Merkur, Astra, Tucker, VW, Routan, Tiguan, Touareg, Jetta, Gti, Passat, Golf, Bosch, Denso, Holden, Chery, Mercedes Benz, Holden Special Vehicles, Hyundai, Trabant, Citroën, Freightline, etc.