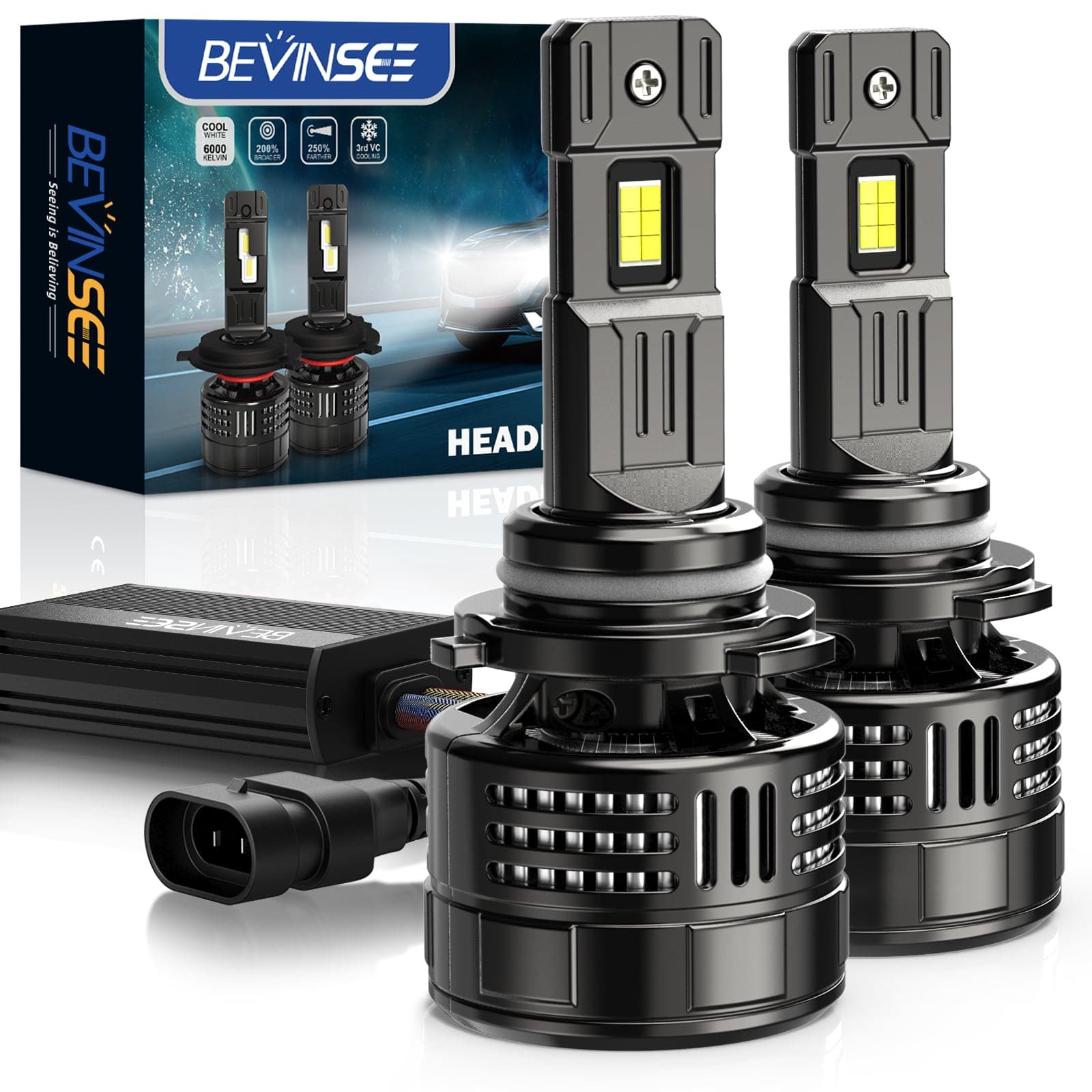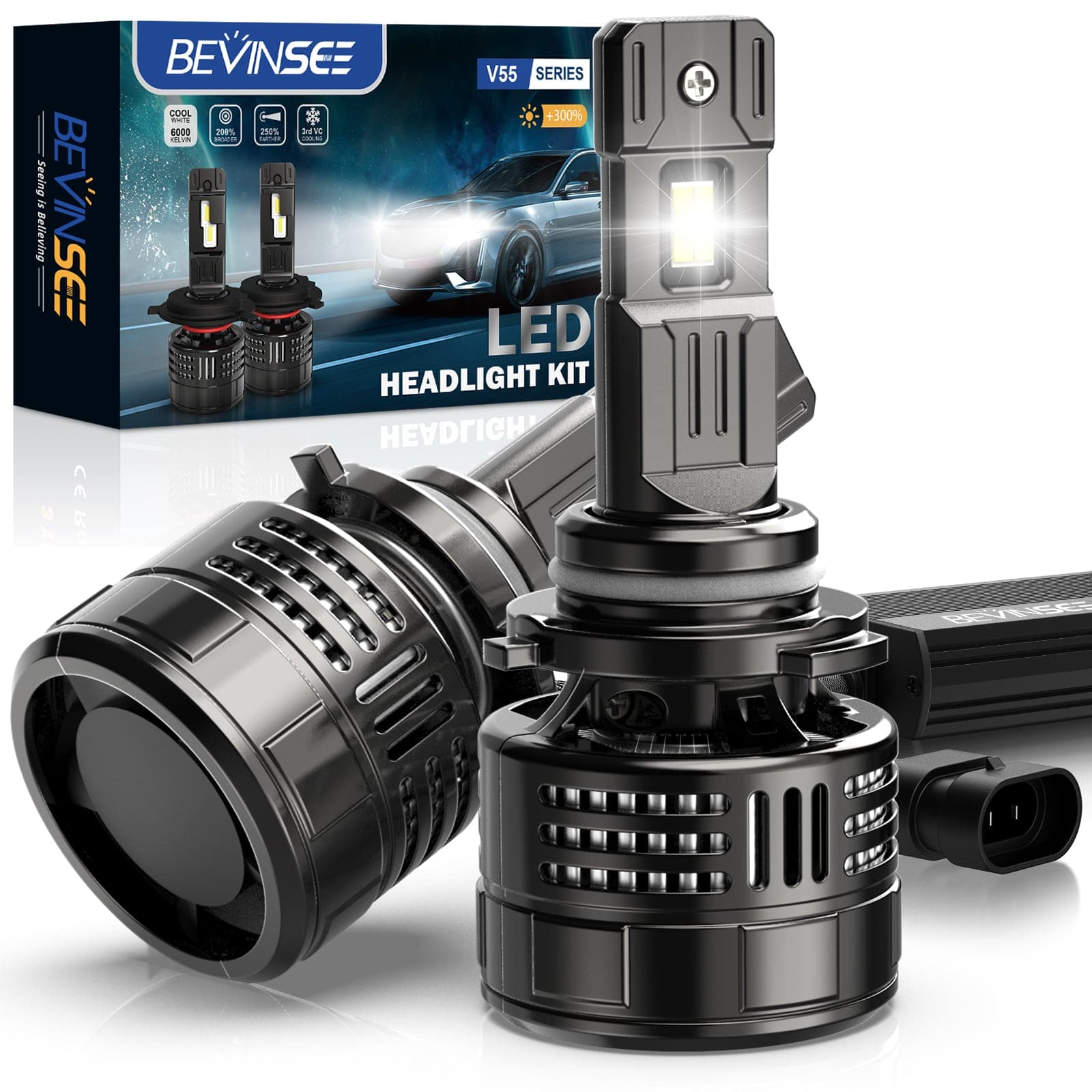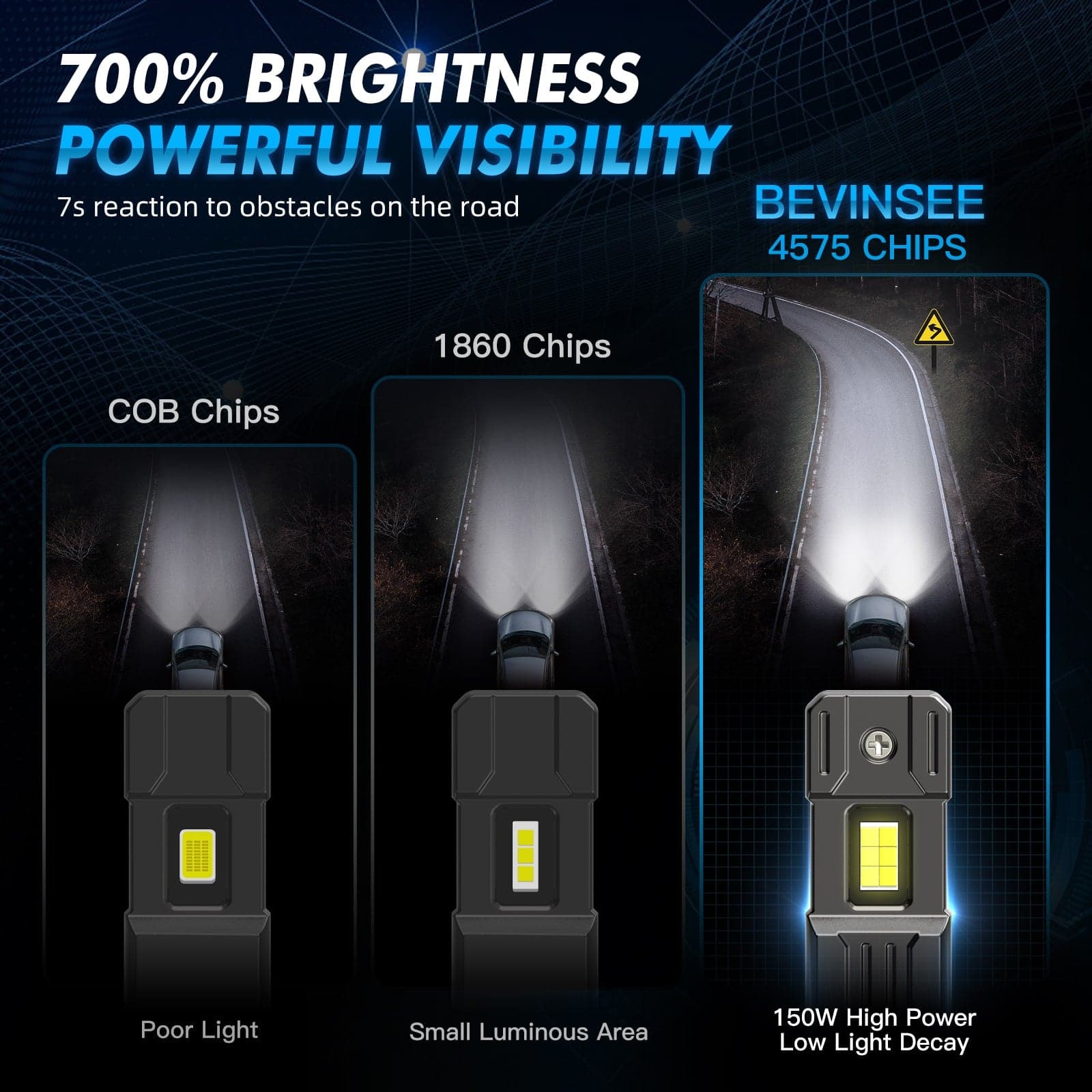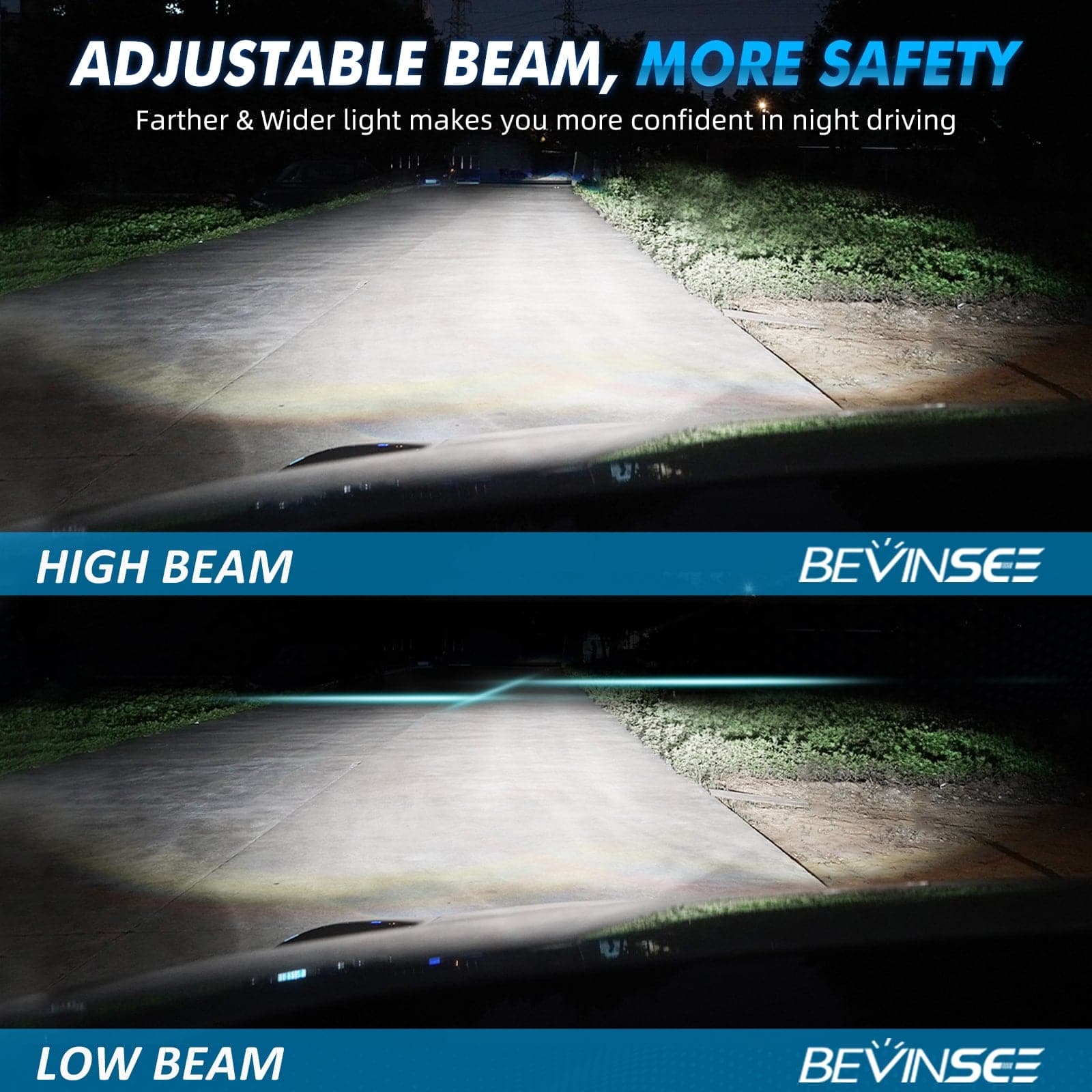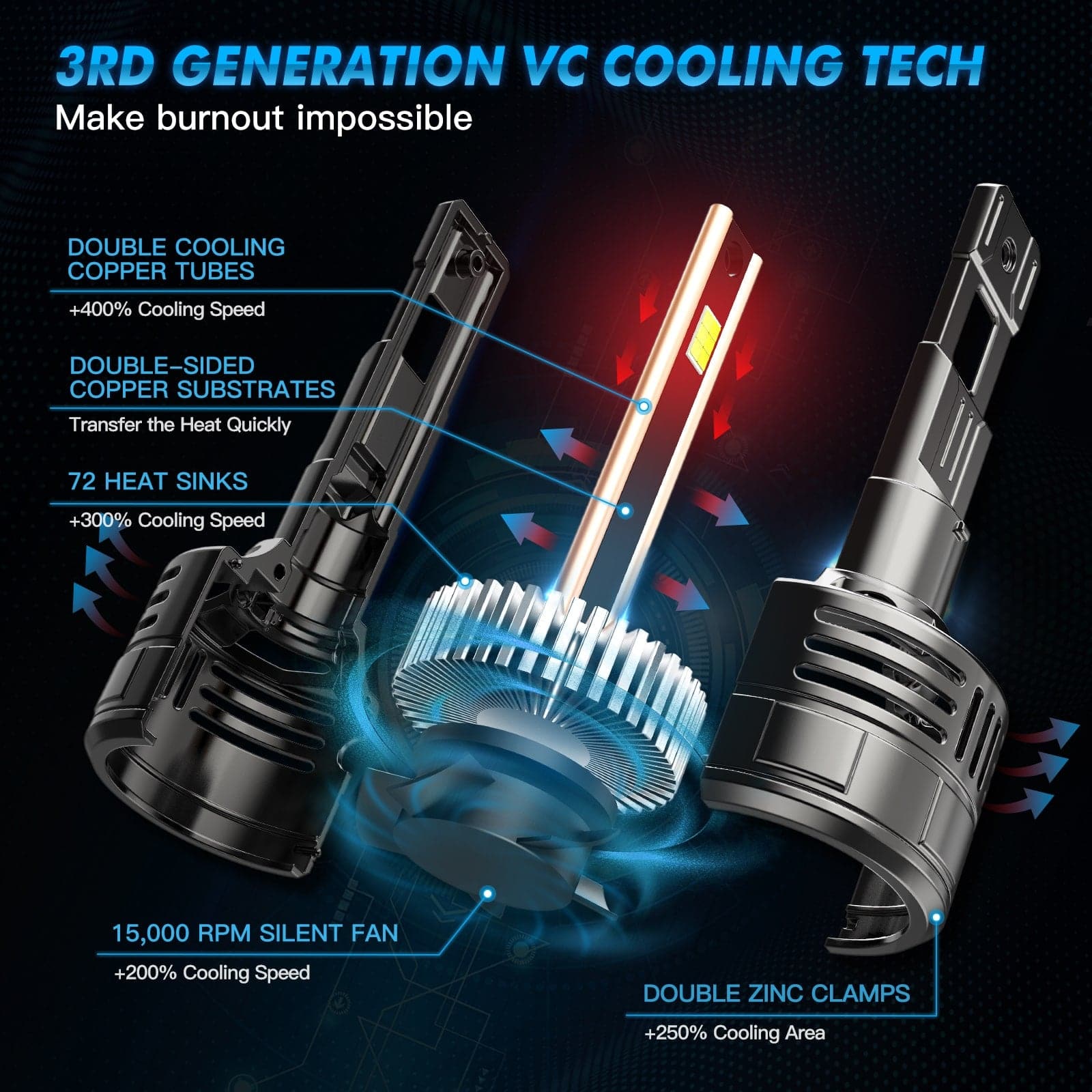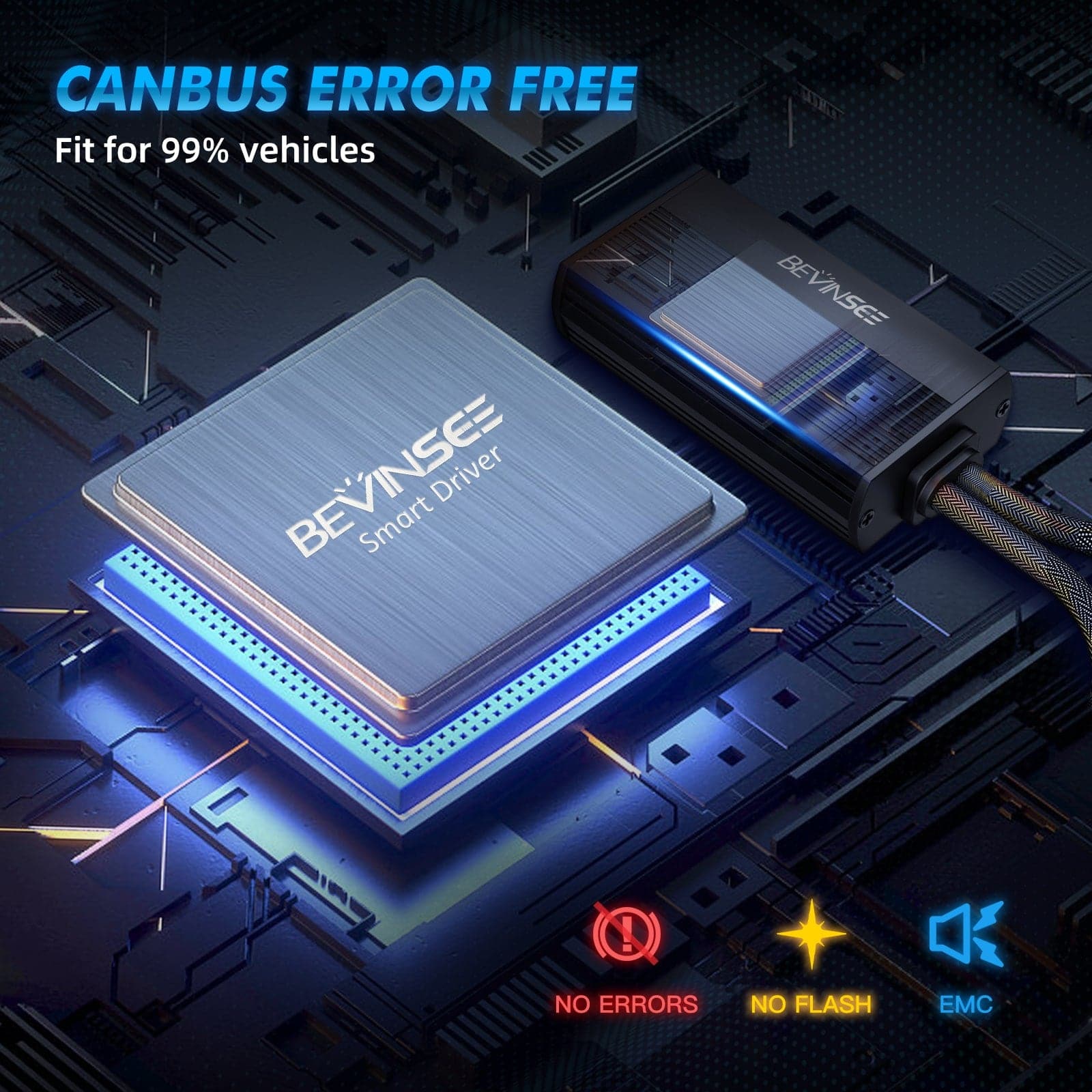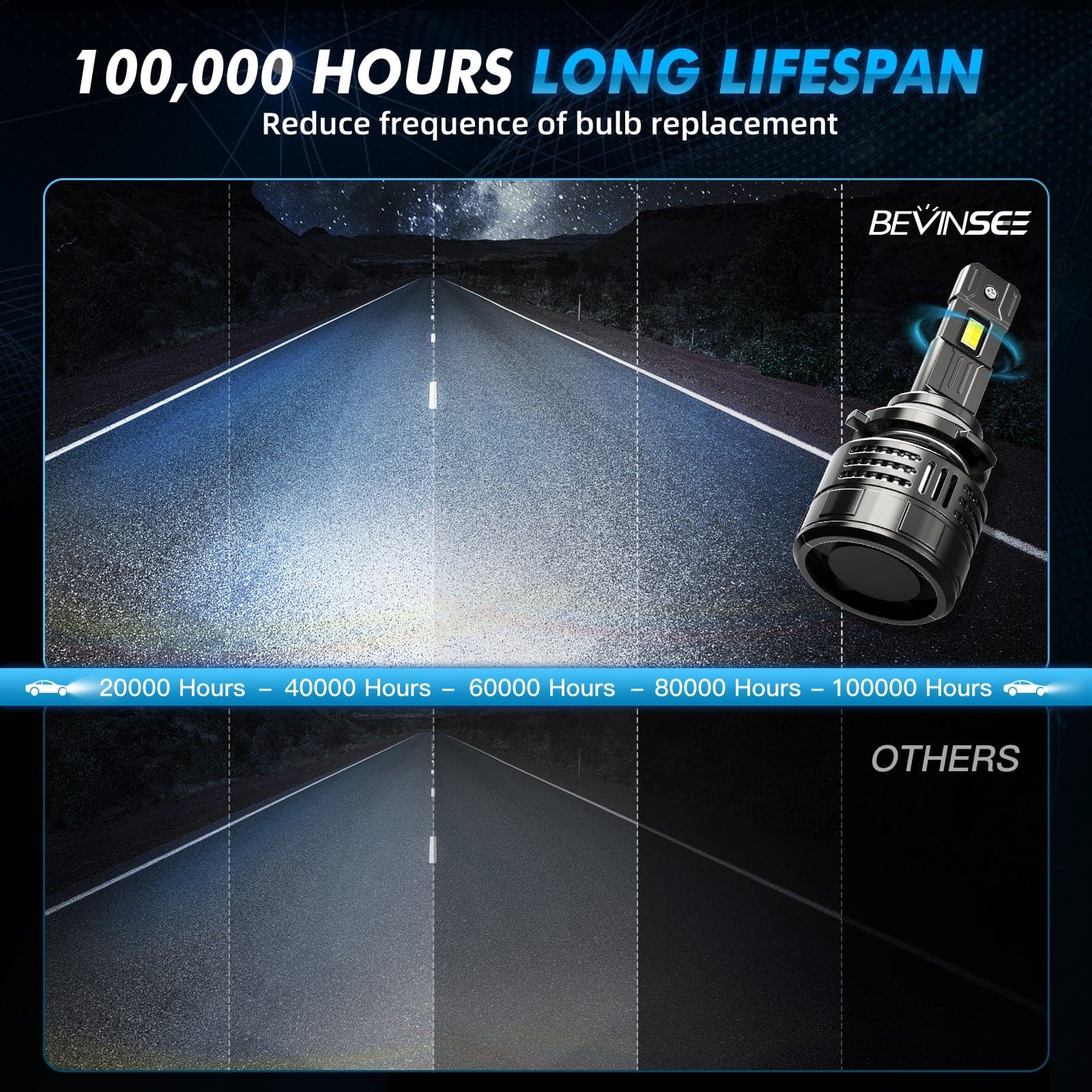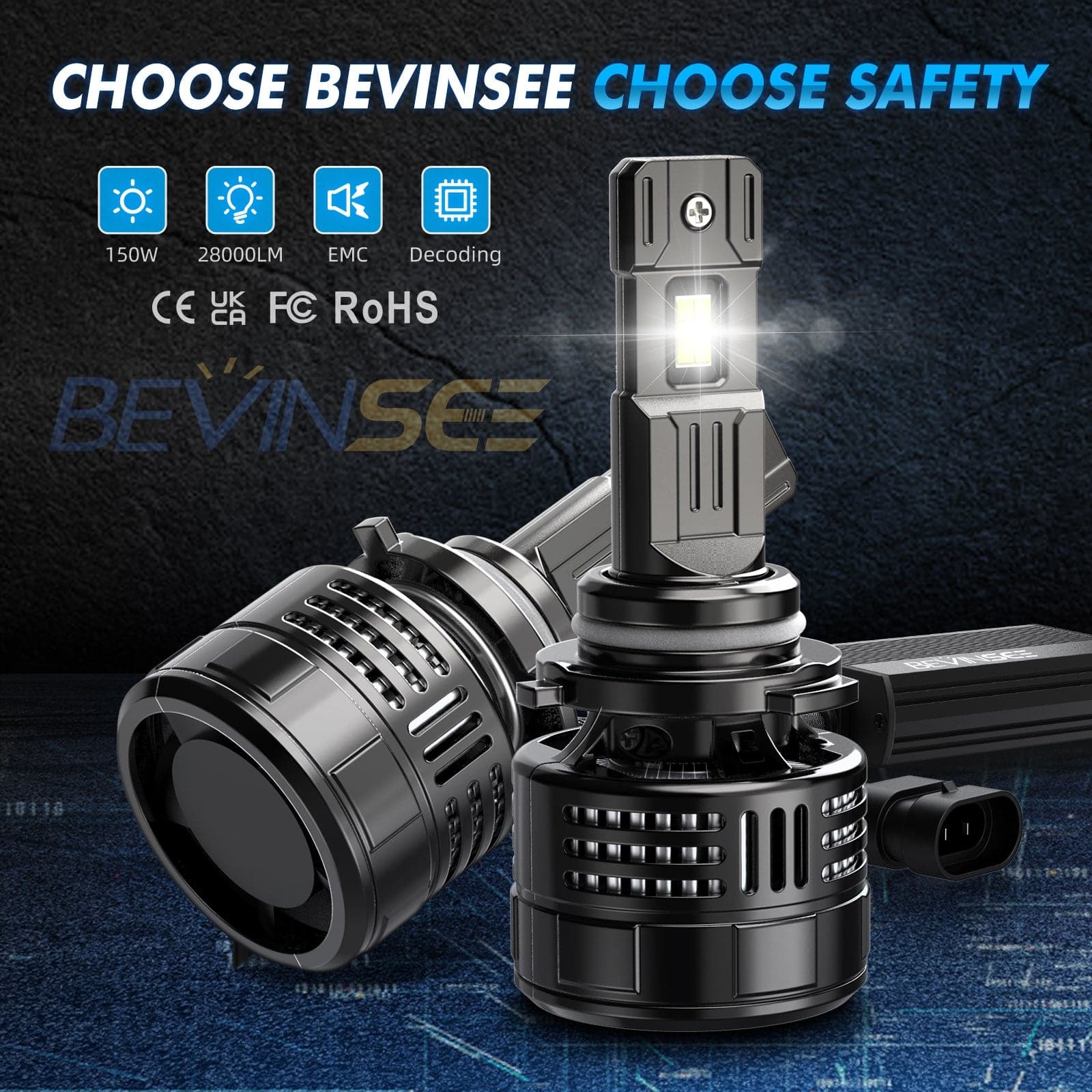 V55 Upgrade 9006 LED Headlight Bulb 150W/Pair Halogen Replacement
This product is vehicle specific.
Select a vehicle to ensure fitment.
WILL NOT FIT
Change Vehicle
Features:
Illuminate The Road With 700% Brightness

 

- Experience a new level of clarity and visibility on the road. Featuring CSP 4575 LED chips, V55 9006 offers clearer vision, illuminating the road up to 1300 feet ahead and enjoy a safer and more comfortable driving experience.
10-Year Lifespan With Advanced Cooling Tech

 

- Say goodbye to frequent bulb replacements. With the 3rd-Gen VC Cooling Tech, It has a lifespan of 100000 hours, which is equivalent to 10 years of constant usage. Double cooling copper tubes, double-sided copper substrates, double zinc clamps, and a 15,000 RPM silent fan keep bulb cool and provide you with reliable and consistent lighting performance.
Error-Free & Interference-Free

 

- Equipped with Canbus ready technology, which ensures no error warning or flickering, and EMC technology that prevents interference with your car's radio. Upgrade to Bevinsee led h7 headlight bulb and experience a seamless upgrade to brighter, clearer, and safer lighting. (Note: There are still some sensitive models that cannot be decoded!)
Safe Driving on The Road

 

- Comes with a 360-degree adjustable adapter, ensuring a perfect light beam pattern for your vehicle. This focued light beam pattern ensures maximum visibility and safety on the road, reducing the risk of accidents caused by poor lighting and giving you peace of mind while driving.
Easy Installation

 

- Installation takes just 5 minutes and requires no specific tools or complicated procedures.
Product information:
Brand: Bevinsee

Bulb type: LED

Voltage: 12V

Power: 150W/Pair

Luminous flux: 28,000 LM/pair

Color temperature: 6000K

Light bead: CSP-4575

CRI: 

≥

70

Working temperature: -40

℃~

+80

℃

Lifespan: >100,000hrs

Waterproof: IP68

Warranty: 3 years
Package includes:
1 pair of LED Light Bulbs
Disclaimer:
Bevinsee parts are not sponsored or endorsed by, or affiliated with the brands its parts fit, including Porsche, Subaru, Jaguar, BMW, Isuzu, Chrysler, Dodge, Jeep, Buick, Cadillac, Chevrolet, GMC, Volvo, Land Rover, Oldsmobile, Pontiac, Ford, Lincoln, Mercury, Acura, KIA, Nissan, Infiniti, International Harvester, Mitsubishi, Audi, Lexus, Toyota, Mazda, Volkswagen, Suzuki, Saab, Honda, Alfa Romeo, Saleen, Mercedes-Benz, Nash, Hummer, Freightliner, Datsun, Saturn, Turner, Geo, Lada, Fiat, Daihatsu, Opel, Vauxhall, Sabra, Tesla, Ram, Rover, Skoda, Healey, Mini, Smart, Scion, Renault, Seat, Peugeot, Merkur, Astra, Tucker, VW, Routan, Tiguan, Touareg, Jetta, Gti, Passat, Golf, Bosch, Denso, Holden, Chery, Mercedes Benz, Holden Special Vehicles, Hyundai, Trabant, Citroën, Freightline, etc.
Strong LED
They are great and very bright so far, but we shall see how long they last as compared to other bulbs I have used
Perfect fit, much brighter
These are absolutely amazing. It is the difference (pun intended) between night and day...In all seriousness, I cannot overstate how much light these bulbs put down the road, feel much, much safer for my wife driving at night. My kids' vehicles are going to get the same upgrade very soon. Highly recommend them.
Much brighter, much better
They are white light as I wanted and thankfully nice and bright, even when I turn my high beams on. They make a big difference when I'm driving in the dark. I don't get nervous anymore when there are no streetlights around; I can now see much further in front and to the sides of my truck. Their customer service is indeed one of the best. Check out their lights, you won't be disappointed.
Work great! If you are thinking of ordering these, just do it.
I got this headlight after a review on YouTube and to be honest was the best thing I ever did. This led is so bright and the cut off clear .100% recommend!!!
Upgrade from stock bulbs!
Easy to install. So far so good ! Customer service is very accomodating. They will respond right away to your query! Will recommend this product! And will buy again in the future!